In My Mailbox (IMM) is a weekly meme hosted by
The Story Siren
.
Sorry there haven't been more reviews lately. As you can tell, I have plenty to read. My daughter has a part in The Nutcracker (she's a one of the Mouse kings little mice minions), the holidays, and a new project at work I haven't had the time to sit down and write the reviews for what I've read. You should see a few of them roll out this week though.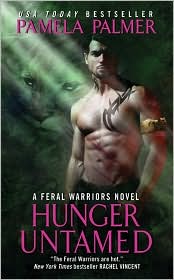 Hunger Untamed (Feral Warriors Series #5)
by Pamela Palmer (autographed) - contest win from
Reading Between the Wines
They are called Feral Warriors - an elite band of immortals who can change shape at will. Sworn to rid the world of evil, consumed by sorcery and seduction, their wild natures are primed for release...
For a thousand years she has haunted him - Ariana, Queen of the Ilinas, a beauty of mist and light. His love, his life mate ... Kougar believed her lost to him forever, until the truth of her stunning betrayal left him bitter and hungry for revenge. Now she alone holds the power to save two trapped and desperate Feral Warriors.
Ariana, caught in a deadly battle of her own, is neither the soulless creature Kougar believes her to be nor the savior he seeks.
And when darkness threatens to annihilate both races, the greates danger of all becomes the glorious love Kougar and Ariana once shared. A love that must never rise again. A love that has never died.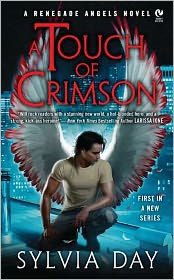 A Touch of Crimson (Renegade Angels Series #1)
by Sylvia Day - contest win from
All Things Urban Fantasy
An angel with immense power and insatiable desire. Adrian Mitchell leads an elite Special Ops unit of the seraphim. His task is to punish the Fallen - angels who have become vampires - and command a restless pack of indentured lycans.
But Adrian has suffered his own punishment for becoming involved with mortals - losing the woman he loves again and again. Now, after nearly two hundred years, he has found her: Shadoe, her soul once more inhabiting a new body that doesn't remember him. This time he won't let her go.
With no memory of her past as Shadoe, Lidsay Gibson knows only that she can't help being fiercely attracted to the smolding, seductive male who crosses her path. Swept into a dangerous world of tumultuous passion and preternatural conflict, Lindsay is soon caught between her angel lover, her vampire father, and a full-blown lycan revolt. There's more at stake than her love and her life - she could lose her very soul.
Concrete Savior (Dark Redemption Series #2)
by Yvonne Navarro
They say no good deed goes unpunished. Brynna Malak is living proof.
A fallen angel in human form, Brynna is trying to earn another chance at heaven.So far, her road to redemption is littered with casualties, especially since Lucifer's minions are intent on dragging her back to hell. And being mortal only got more complicated since Brynna became involved with Detective Eran Redmond.
Still, Brynna's relationship issues - like the fact that one glimpse of her can drive men crazy with desire - may have to wait. A mysterious "hero" is saving Chicago's citizens from certain death, with strange and sinister consequences. Brynna know too much about demonkind to believe in coincidences. Some dark force is at work here, and Brynna may be the only one who can stop it...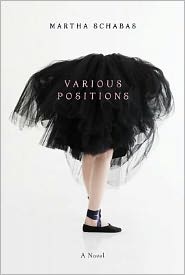 Various Positions
by Martha Schabas (ARC) - contest win from
Black and Gold Girl's Book Spot
Georgia has always toes the line - until adolescence took hold and the lines got blurred.
Trapped between the sex-obsessed world of her friends andt he drama of her dysfunctional family, fourteen-year-old Georgia is most as ease when she's dancing. When she is accepted into Canada's preeminent ballet school, she thinks it is the perfect escape. Artistic director Roderick Allen singles her out as a star and gives her intense personal training, and Georgie obsesses about becoming the perfect disciplined student for him. But as she spends more and more time with Roderick, it's not so clear to her anymore exactly what their relationship means. Is he her teacher and mentor, or is he something more?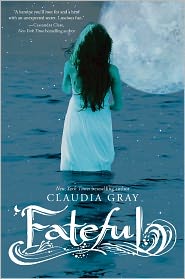 Fateful
by Claudia Gray (ARC)- contest win from
Black and Gold Girl's Book Spot
It's 1912, and Tess Davies has been trapped in the employ of the overbearing Lisle family for years. But now the Lisles are headed to America with Tess in tow. Once the ship they're sailing on - the RMS Titanic - reaches its destination, Tess plans to strike out on her own. When Tess meets Alec, a handsome first-class passenger, she quickly becomes entangled in his dark secrets. The danger they face is no ordinary enemy: werewolves exist and are stalking him - and now her, too. Her growing love for Alex will put Tess in mortal peril and fate will do the same before their journey is over.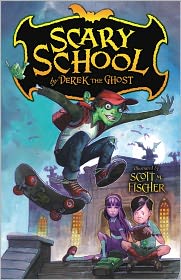 Scary School
by Derek the Ghost illustrated by Scott M. Fischer - book to review and read with my daughter.
Derek the Ghost is an eleven-year-old ghost who haunts the classroons and hallways of Scary School writing down all the spine-tingling, often hilarious things that go on there. Despite his ghostly state, Derek still enjoys reading comic books and hopes to one day become a master ninja. If that doesn't work out, he will continue to share the fun of this very special, very secret school, so all kids can experience the scariest school on earth.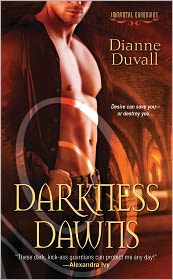 Darkness Dawns
by Dianne Duvall (autographed) - contest win from
Reading Between the Wine
Once, Sarah Bingham's biggest challenge was making her students pay attention in class. Now, after rescuing a wounded stranger, she's landed in the middle of a battle between corrupt vampires and powerful immortals who also need blood to survive. Roland Warbrook is the most compelling man Sarah has ever laid hands on. But his desire for her is mingled with a hunger he can barely control...
In his nine centuries of immortal existence, no woman has tempted Roland as much as Sarah. But asking her to love him is impossible - when it means forfeiting the world she's always known, and the life he would do anything to protect.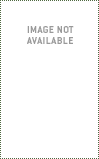 Black & Orange
by Benjamin Kane Ethridge - upcoming book tour
Forget everything you know about Halloween. The stories are distortions. They were created to keep the Curch of Midnight hidden from the world. Every October 31th a gateway opens to a hostile lane of sacrificail magic and chaos. Since the beginning of civilization the Church of Midnight has attempted to open the gateway and unite with its other half, the Church of Morning. Each year they've come closer, waiting for the ideal sacrifice to open the gateway permanently.
This year that sacrifice has come...
Newly widowed and desperate to protect her estate fromher malevolent brother-in-law, Martha Russellconceives a darking plan. Or,, Rather, a daring plan to conceive. If she has an heir on the way, her future will be secured Forsaking all propriety, Martha approaches her neighbor Theophilus Mirkwood, a London exile with a wicked reputation, and offers a strictly business proposition: a month of illicit interludes...for free. Determined she'll get her money's worth. Theo sets out to awaken this neglected beauty to the pleasures of the flesh - only to find her dead set against taking any enjoyment in the scandalous bargain. Surely she can't resist him forever. But could a lady's sweet surrender open their hearts to the most unexpected arrival of all...love?
Invisible by Jeanne Bannon - upcoming book tour
Lola's not pretty. Lola's not popular. Lola wishes she could disappear - and then one day she does just that...
For seventeen-year-old Lola Savullo, life is a struggle. Born to funky parents who are more in that she could ever be, Lola's dream of becoming a writer makes her an outsider even in her own home. Bullied and despised, Lola still has the support of her best pal Charlie and Grandma Rose.
Not only is she freakishly tall, Lola's a big girl and when forced to wear a bathing suit at her summer job as a camp counselor, Lola's only escape from deep embarrassment seems to be to literally vanish. Soon after, she discovers the roots of her new "ability".
Slowly, with Charlie's help, Lola learns to control the new super power. The possibilities are endless. Yet power can be abused, too...
Then, when tragedy strikes, Lola must summer her inner strength, both at home and at school. She has to stand up for herself, despite the temptations and possibilities of her newfound super power.