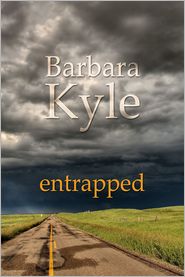 Entrapped
by Barbara Kyle
Set in Alberta, Canada, Entrapped is the story of Liv Gardner, an ambitious young oil executive intent on stopping farmer Tom Wainwright who is sabotaging her rigs after a spill of lethal "sour" gas poisoned his wife. Desperate to save the company she built, Liv plants evidence to frame Tom. But when the evidence is used to indict him for a murder he didn't commit, only Liv can save him.
Entrapped
Author: Barbara Kyle
Genre: Fiction – Thriller/Suspense
Published by: Barbara Kyle (June 15, 2011)
Age Recommendation: 18+ For Mild Sexuality
Format: eBook
ASIN: B0056AEQVI
Number of pages: N/A
Barbara Kyle is the author of the Tudor-era "Thornleigh" novels including
The Queen's Lady, The King's Daughter, The Queen's Captive,
and
The Queen's Gamble
, all published internationally. Barbara previously won acclaim for her contemporary thrillers under pen name 'Stephen Kyle,' including
Beyond Recall
(a Literary Guild Selection),
After Shock
and
The Experiment
. Over 400,000 copies of her books have been sold. Her latest thriller, under her own name, is
Entrapped
. Barbara is passionate about helping emerging writers. She has taught her "Writers Boot Camp" for the University of Toronto School of Continuing Studies, and is known for her dynamic workshops for many writers organizations. She offers twice-yearly Master Classes that focus on work-shopping each participant's novel-in-progress. Her popular series of videos "Writing Fiction That Sells" offers ten hours of tips, techniques, and inspiration, and is available online via her website. Before becoming an author Barbara enjoyed a twenty-year acting career in television, film, and stage productions in Canada and the U.S.
List of works by Barbara Kyle:
BEYOND RECALL (pen-name 'Stephen Kyle') 2000, Warner Books
THE EXPERIMENT (pen-name 'Stephen Kyle') 2003, Warner Books
AFTER SHOCK (pen-name 'Stephen Kyle') 2002, Warner Books
THE QUEEN'S LADY 2008, Kensington Books
THE KING'S DAUGHTER 2009, Kensington Books
THE QUEEN'S CAPTIVE 2010, Kensington Books
THE QUEEN'S GAMBLE 2011, Kensington Books
ENTRAPPED 2011
Find and follow Barbara Kyle at:
Buy the eBOOK at:
My Review:
Welcome to the world of oil of gas. A place where people would do anything to get ahead and get the job done. A place where one wrong move, one cut corner can cost people their lives. This is world that Liv Gardner finds herself in. She's a corporate attorney for Falcon Oil, an up and coming company that is making headways in the small town in Alberta, Canada. The only thing holding them back from raking in the profits is a Tom Wainright, a local sheep farmer. There has been a lot of sabotage on their rigs and property, and everyone suspects Wainright, but no one can prove it. Liv goes in undercover to see if she can get Wainright to admit to the deeds so Falcoln Oil can continue it's work. But Liv finds that Wainright is a tough nut to crack and in the process starts to have some conflicting feelings. And when things become more violent and the situation escalates out of control, she is put in the toughest position she has ever found herself in.
Liv is a wonderful person willing to do anything for the people she loves, including Micky, her boyfriend and head of Falcon Oil. This is the whole reason she intially goes undercover trying to get Wainright to confess. As she works her way into the heart and soul of the community, she finds that they have worked their way into hers. But then one bad decision can ruin everything - not just her life, but the lives of many of the people she has come to care about. Tom Wainright is a man with an agenda. Armed with the belief that toxic fumes from Falcoln Oil killed his wife, he has set off to sabotage and drive the oil company out of the town forever. But how far will he take it?
An amazing story that seemed well researched and developed, I had a hard time putting it down. Always wondering what was going to happen next and then being surprised at the many twists and turns as the story unfolded. Wainright and Liz were such dynamic characters that they came to life on the pages. The final chapters were the best I've read in a long time. I thought I had the "big twist" figured out, and then I was shocked at what really happened - then wondered how I didn't see it before! This was a well thought out, captivating book that I would recommend to anyone.
Entrapped by Barbara Kyle – NURTURE Book Tour Schedule: