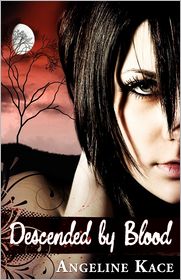 Descended By Blood
by Angeline Kace
Genre: Urban Fantasy
Pages: 252
Acquired: 10/14/11
Book of Your Shelf? No
Why I read it:
Series: The Grym Brothers (1)
Brooke Keller isn't your typical high school student. After a lifetime of moving from place to place, she has finally found a spot where she feels at home and belongs. But when strange things start happening, she's afraid to tell her mother and find out they have to move again. Now by strange things, I mean really strange. She "talks" to a mountain lion that attacks her on a hike and realizes that a man is stalking her - trying to kill her. After the attempt at her life, her mother finds out of course, and then a whole new set of strange things begin. She finds out that she is a vampire, and it turns out that she is a very special one. She teams up with a group that is determined to keep her alive and help her adjust to her new life.
Brooke was a good character. She was sufficiently "freaked out" by the strange turn of events her life had taken. She is at once disgusted at her new way of life, and wanting to embrace her new powerful self. She adjusts quickly, but in a way that makes the story real and involving. She finds herself torn between her old life and her new one - torn between her high school love and the vampire hunk that is trying to help her. The attempts on her life continue and she has the choice to embrace her new life and powers or be killed. A wonderful, quick read that I recommend to fans of urban fantasy.
3.5/5