Im My Mailbox (IMM) is a weekly meme hosted by
The Story Siren
. My mailbox was quite busy this week and I'm really excited about all the great books I got.
The Turning (Blood Ties Series #1)
Jennifer Armintrout - Public Library
I'm no coward. I want to mmake that perfectly clear. But after my life turned into a horror movie, I take fear a lot more seriously now. I finally became Dr. Carrie Ames just eight months ago. Then I was attacked in the hospital morgue by a vampire. Just my luck.
So now
I'm
a vampire, and it turns out I have a blood tie to the monster who sired me. The tie works like an invisible leash and I'm bound to him no matter what I do. And of course he's one of the most evil vampires on earth. With my sire hell-bent on turning me into a soulless killer and his sworn enemy set to exterminate me, things couldn't get much worse - except I'm attracted to them both.
Drinking blood, living as an immortal demon and being a pawn between two warring vampire factions isn't exactly how I'd imagined my future. But as my father used to say, the only to conquer fear is to face it. So that's what I'll do. Fangs bared.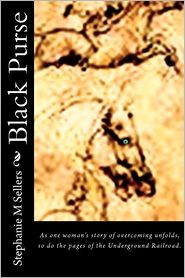 Black Purse
by Stephanie M Sellers - Contest win from
My Devotional Thoughts
While history waits for Exilee Sheffield to rise up strong from twentieth century oppression to grab the reins of her destiny's purse, true love does not.
An eventful trail ride binds Exilee to the man she loves and to another she has reason to hate. With the opportunity for revenge right in from of her pointed boot she makes a choice that will lead to emancipation.
As Exilee calls on all facets of her Lumbee Indian heritage the gravel in her gut and screams from her horses urges her to fight for righteousness and in the end, her life.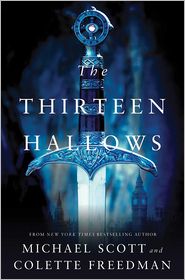 The Thirteen Hallows
by Michael Scott and Colette Freedman -
First Read
Ancient artifacts imbued with a primal and deadly power. But are they protectors of this world, or the keys to its destruction?
A gruesome murder in London reveals a sinister plot to uncover a two-thousand-year0old secret.
For decased, the Keepers guarded tehse Hallows, keeping them safe and hidden and apart from each other. But now the Keepers are being brutally murdered, their prizes stolen, the ancient objects bathed in their blood.
Now, only a few remain.
With her dying breath, one of the Keepers convinces Sarah Miller, a practical stranger, to deliver her Hallow - a broken swoard with devastating powers - to her American nephew, Owen.
The duo quickly become suspects in a series of murders as they are chased by both the police and the sadistic Dark Man and his nubile mistress.
As Sarah and Own search for the surviving Keepers, they unravel the deadly secret the Keepers were charged to protect. The mystery leads Sarah and Owen on a cat-and-mouse chase through England and Wales, and history itself, as they discover that the sword may be the only thing standing between the world...and a horror beyond imaging.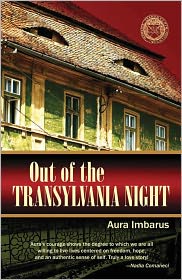 Out of the Transylvania Night
by Aura Imbarus - Contest win from
I Am A Reader, Not A Writer
In an epic tale of identity and the indomitable human spirit,
OUT OF THE TRANSYLVANIA NIGHT
explores tyranny, freedom, love, success, and the price paid for misaligned dreams. An incredibly powerful memoir.
'I'd grown up in the land of TRANSYLVANIA, homeland to Dracula, Vlad the Impaler, and, worse, the Communist dictator, Nicolae Ceausescu—who turned Romania into a land of gray-clad zombies who never dared to show their individuality, and where neighbors became informants, and the Securitate made people disappear. Daylight empowered the regime to encircle us like starved wolves, and so night had always been the time to steal a bit of freedom. As if bred into our Transylvanian blood, we were like vampires who came to life after sundown. I buried the family heirloom jewels, tucked the flag into my sweater and left my outpost to join the action . . . tonight Ceausescu would die!'
Known for using stand-ins to pose for him, Aura doubts if it was even Ceausescu himself who was killed that night. Nevertheless, when her countrymen topple one of the most draconian regimes in the Soviet bloc, Aura Imbarus tells herself that life post-revolution will be different. But little in the country changes. With two pieces of luggage and a powerful dream, Aura and her new husband flee to America. Through sacrifice and hard work, the couple acquire a home, cars, and travel—but trying to
be
Americans is much more complicated than they expect. More difficulties set in: the stock market crash takes their savings, house, and cars; thieves steal three centuries' worth of heirloom jewels; and Aura's beloved mother dies.
Aura's marriage crumbles under the stress. Devastated, she asks herself, 'How much of one's life is owed to others?' Tested even further by the vagaries of fate, Aura discovers a startling truth about striking a balance between one's dreams and the sacrifices and compromises that allow for serenity, selfhood, and lasting love. More resolution comes when in 2010, Ceausescu's body is exhumed to answer questions of a cover-up, and Aura can finally lay to rest the haunting mysteries of her past.
Finding Fiona by Emily Ann Ward - ebook
The victim of a brutal attack, Fiona remembers little about her life until she meets someone who claims to be from her past. He tells her that her parents were killed for a human replication machine. He's shocked to discover she's still alive since her body was found in the wreckage of the fire.
She soon travels to her old home in New York to figure out what happened to her and her family. She needs to find out who she is, but more importantly, confront the men who killed her parents.
This coming-of-age scifi novella is full of mystery, action, and romance. At 45,000 words or about 180 pages, this book is a perfect weekend read.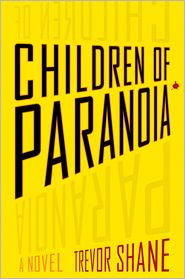 Children of Paranoia
by Trevor Shane - Contest win from
So Many Precious Books, So Little Time!
Since the age of eighteen, Joseph has been assassinating people on behalf of a cause that he believes in but doesn't fully understand. The War is ageless, hidden in the shadows, governed by a rigid set of rules, and fought by two distinct sides-one good, one evil. The only unknown is which side is which. Soldiers in the War hide in plain sight, their deeds disguised as accidents or random acts of violence amidst an unsuspecting population ignorant of the brutality that is always inches away.
Killing people is the only life Joseph has ever known, and he's one of the best at it. But when a job goes wrong and he's sent away to complete a punishingly dangerous assignment, Joseph meets a girl named Maria, and for the first time in his life his singleminded, bloody purpose fades away.
Before Maria, Joseph's only responsibility was dealing death to the anonymous targets fingered by his superiors. Now he must run from the people who have fought by his side to save what he loves most in this world. As
Children of Paranoia
reaches its heart-in-throat climax, Joseph will learn that only one rule remains immutable: the only thing more dangerous than fighting the War...is leaving it.
Under Attack by Hannah Jayne - Contest win from
All Things Urban Fantasy
along with some really cool Swag. Sophie Lawson is a human immune to magic, which comes in handy for helping paranormal beings transition into everyday life. But fallen angel Alex Grace and his search for the Vessel of Souls is one curse she never saw coming. Suddenly an unexplainable string of killings and destruction has even San Francisco's demons fearing for their immortal lives. And Sophie isn't about to trust Alex's all-too-vulnerable charm or his secret agenda. Now their hunt is revealing dangerous secrets about Sophie's past, and a malevolent power hellishly close to turning one irreverent human into the ultimate supernatural weapon. . .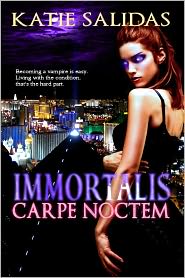 Sent as Omnibus - ebook
Immoratlis Series by Katie Salidas - Upcoming Book Tour
Carpe Noctem by Katie Salidas:
Explore the emotional upheaval that is the transformation from human to vampire.
Bleeding to death after brutal mugging on the campus of UNLV, Twenty-five year old Alyssa, is rescued by the cold and aloof, vampire, Lysander. Taking pity on her, he shares the gift-and curse-of immortality. She awakens as a vampire and is soon devastated by harsh realities of her new way of life: An unyielding thirst for blood as well as the loss of her friends, her independence, and her humanity.
As if having her humanity stripped away was not enough to make life interesting, Alyssa finds out her "turning", did not go unnoticed by the rest of undead society. Old enemies; an ancient sect of vampire hunters, known as the Acta Sanctorum, as well as a powerful Vampire mistress, each set plans in motion to destroy both Alyssa and Lysander.
Only by accepting her new-found immortality, seizing the night, will Alyssa hope to survive. She and Lysander must fight together against two sets of enemies bent on destroying them both.
Hunters & Prey by Katie Salidas
Becoming a vampire saved Alyssa from death, but the price was high: the loss of everything and everyone attached to her mortal life. She s still learning to cope when a surprise confrontation with Santino Vitale, the Acta Sanctorum s most fearsome hunter, sends her fleeing back to the world she once knew, and Fallon, the friend she s missed more than anything.
Alyssa breaks vampire law by revealing her new, true self to her old friend, a fact which causes strong division in the group that should support her most: her clan. Worse yet, her revelation entangles Fallon in the struggle between vampires and hunters and The Acta Sanctorum is ready to attack again, with a new army of hybrid creations: the Frenzy Soldiers. If Alyssa hopes to survive and keep her mortal friend safe, she ll have to be willing to make a deal with the enemy, and regain her clan s support. It will take everyone working together in a precarious truce to fight against the Acta Sanctorum s new threat.
Pandora's Box by Katie Salidas
After a few months as a vampire, Alyssa thought she'd learned all she needed to know about the supernatural world. But her confidence is shattered by the delivery of a mysterious package - a Pandora's Box.
Seemingly innocuous, the box is in reality an ancient prison, generated by a magic more powerful than anyone in her clan has ever known. But what manner of evil could need such force to contain it?
When the box is opened, the sinister creature within is released, and only supernatural blood will satiate its thirst. The clan soon learns how it feels when the hunter becomes the hunted.
Powerless against the ancient evil, the clan flees Las Vegas for Boston, with only a slim hope for salvation. Could Lysander's old journals hold the key? And what if they don't?
And how welcome will they be in a city run by a whole different kind of supernatural being?
Werewolves...