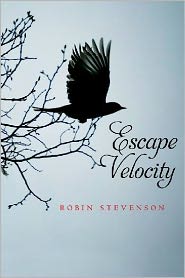 Escape Velocity
by Robin Stevenson
Genre: Contemporary Young Adult
Pages: 240
Acquired: 10/18/11
Book of Your Shelf? No
Why I read it: First Reads
Series: No
Lou is a teenager living in Alberta with her father, and she's miserable. She has no life, no friends, and her father's deteriorating health and prescription drug addictions are driving her mad. Her mother, a famous poet and author, left minutes after she was born. They reconnected when she was a older, but things have happened since that makes it difficult for them to speak to each other. When the unthinkable happens and Lou's dad ends up in the hospital after a stroke, she is shipped off to live with the mother she hardly knows. Lou decides to make the best of the situation and tries to figure out why her mother left. She is convinced the answer will be found somewhere in her mother's writing, but the conclusion Lou draws is not a happy one.
Lou rubbed me the wrong way. The author seemed to be trying to make her optimistic and hopeful, but it just didn't seem to come across the pages right. She had few original ideas and it often seemed like she just didn't get it - any of it. The situation between her and her father seemed extremely unrealistic and I had a hard time relating to them. The strain between Lou and her mother really held the story together for me. With both of them trying to figure their lives and themselves out, they keep missing what really matters most in their relationship.
I saw most of the final twist coming, but it was a bit more dramatic than I anticipated. The book ended nicely for me - it left things open to continue in the imagination, but closed enough to give me resolution.
3/5