In My Mailbox is a weekly meme hosted by
The Story Siren
. I had a few good ones come in this week.
Two Moons of Sera by Pavarti K Tyler - Received from
First Reads
In a world where water and earth teem with life, Serafay is an anomaly. The result of genetic experiments on her mother's water-borne line Serafay will have to face the very people responsible to discover who she really is. But is she the only one?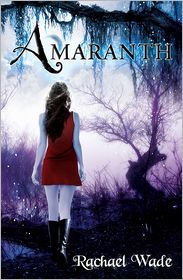 Amaranth by Rachel Wade - Contest win from
See It Or Read It
(eBook)
Knowledge changes everything…
Hoodoo-influenced Southern Louisiana seems like the perfect place for Camille to escape her abusive past and dysfunctional family. She doesn't expect to fall in love with the handsome Gavin Devereaux and plummet into the world of Amaranth, a place of exile for reformed vampires.
Wrestling to escape a deadly ex-boyfriend while giving Gavin a chance, Camille is confronted with decisions that threaten not only her life, but the lives of her inhuman friends she has come to love. Entangled in her friends' quest for freedom, she dives into their realm and faces the threats of Amaranth's ruler—the mother of all vampires—and her own inner demons.
Now Camille must decide whether she will derail her life and make the ultimate sacrifice for the monsters that interrupted her bumpy path back to sanity—what she still wants so desperately—or escape with Gavin before it's too late for both of them.
The 58th Keeper by R. G. Bullet -
Pump Up Your Book Tours
The 58th Keeper is the story of a boy called Archy Bass, who stumbles upon a mysterious and powerful relic. The moment he touches it, two warring forces race to find his whereabouts. One side thinks he's simply too young and too inexperienced to keep it, and the other just want him dead. Hold on to your seats! The 58th Keeper is a roaring trip that takes the reader on the most wonderful and hair-raising scenes imaginable. R. G. Bullet pulls out all stops in his debut novel to deliver an incredible journey with unforgettable characters. This book will resonate with you for ages past the last line.