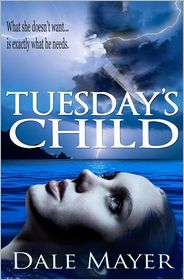 Tuesday's Child
by Dale Mayer
Discription from Amazon: What she doesn't want...is exactly what he needs.
Shunned and ridiculed all her life for something she can't control, Samantha Blair hides her psychic abilities and lives on the fringes of society. Against her will, however, she's tapped into a killer—or rather, his victims. Each woman's murder, blow-by-blow, ravages her mind until their death releases her back to her body. Sam knows she must go to the authorities, but will the rugged, no-nonsense detective in charge of tracking down the killer believe her?
Detective Brandt Sutherland only trusts hard evidence, yet Sam's visions offer clues he needs to catch a killer. The more he learns about her incredible abilities, however, the clearer it becomes that Sam's visions have put her in the killer's line of fire. Now Brandt must save her from something he cannot see or understand…and risk losing his heart in the process.
As danger and desire collide, passion raises the stakes in a game Sam and Brandt don't dare lose.
My Thoughts:
Samantha's character grabbed me from the beginning. Struggling with her psychic abilities, not just mentally, but physically as each victim's wounds manifest on her own body. She fears that the next attack will lead to her death as well. She would do anything to help, and when Detective Sutherland finds out about her abilities a deep secret from her past rears its ugly head.
Detective Sutherland finds Samantha's ability both a god-send and a problem. While he truly believes in psychic abilities, he knows how the public will react if they ever found out that she was helping to solve a serial murder. As the case escalates, and more deaths are uncovered, Sutherland finds himself drawn in an entirely new way to Samantha. He only hopes that he can help her gain some control over her ability before its too late.
The story unfolds quickly and I was caught up in wanting to find out what Samantha was going to do right away. I wasn't nearly as fond of Sutherland. he seemed to be a bit of a stereotype police officer, with the exception of believing in psychics. He was quite the "macho man" and it grated on me a bit at times.
As one of Dale Mayer's first forays into the genre, it was very good story. I have read a few of Mayer's other books (reviews coming shortly), and I see only good and better things to come.