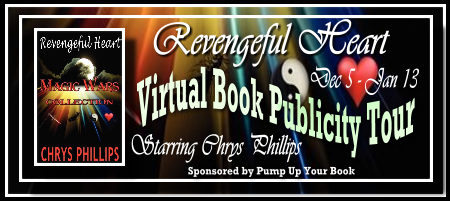 About Chrys Phillips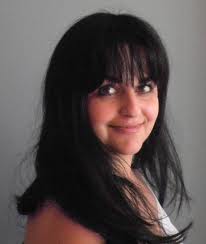 Chrys Phillips
debut book series, Magic Wars Books is available worldwide. She is a successful playwright with many of her plays being performed in full scale theater and musical productions. When not creating her books, screenplays and theatre scripts, she can be found shopping for her favorite accessories, spending time at Australian beaches and/or traveling the globe to attend her public speaking & writing events. She's a self-proclaimed chocolate and movie addict.
Her latest book is the YA urban fantasy,
Revengeful Heart
.
You can visit her website at
www.magicwarsbooks.com
. Visit her at Twitter at
www.twitter.com/magicwarsbooks
and Facebook at
www.facebook.com/magicwarsbooks
.
You can visit Chrys Phillips author/public speaking web
www.neversaycant.yolasite.com
About Revengeful Heart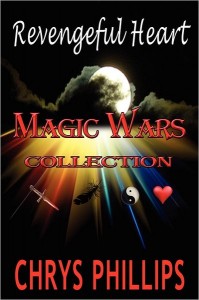 ITS A WICKED RUN OF LOVE ~ SECRETS ~ REVENGE ~ HEARTBREAK AND FEAR…ONE TASTE AND YOU'LL BE BEGGING FOR MORE!
Can a broken heart be mended? Are soul mates destined to be together no matter what forces try to keep them apart?
Lakeview exists…it's a humble pleasant place to live…but amongst its scenic surrounds immortals are dwelling some are evil enough to haunt and horrify you for eternity and others are loving and full of heroic actions. Would you befriend them? How would you know who's who?
Teens Rick, Miki & CJ attend Lakeview High and live their teen lives with their secret loves and school hassles…evil is arriving and their lives are never going to be the same! Who wins? Who cries? Be warned its a wicked ride…of hope, tears, strength, power, love and dangerous choices filled with deception, betrayal and tenderness!
AMAZON
http://www.amazon.com/Revengeful-Heart-Chrys-Phillips/dp/1935670522/ref=sr_1_1?ie=UTF8&qid=1318743583&sr=8-1
BARNES AND NOBLE
http://www.barnesandnoble.com/w/revengeful-heart-chrys-phillips/1102407147?ean=9781935670520&itm=1&usri=revengeful%2bheart
SMASHWORDS
http://www.smashwords.com/books/view/48889
ITUNES
http://itunes.apple.com/au/book/revengeful-heart/id443151936?mt=11
My Thoughts
:
Pros:
Revengeful hearts has a great storyline. Three teenagers, gifted with special powers, are given the task of saving their small town - and possibly the world - from evil from beyond the Universe. The three have a very realistic relationship with other that reminded me of my time in high school (minus the evil beings out to ruin everything).
The story was split into parts with each one telling the tale of potential disaster that the three must fight. Each story features a new enemy and familiar friends that help in their own ways. The concept of revenge and love scorned runs throughout the entire book and helps to hold the stories together.
Cons:
I thought long and hard before writing this part. There were things that I just had a hard time with in the book that really had nothing to do with the actual story. There were quite a few places that I hard a time reading because the punctuation and grammer wasn't correct. This made it a difficult to read through parts without having to go over them to make sense of the section. I think that if this story was given another editting job that it could really take off. Each part of the book gets better and easier to read.
Overall:
Revengeful Heart is definately worth the read if you can adapt or ignore the errors. Once I got into the right frame of mind to skip over them I really enjoyed it.
Giveaways, Contests & Prizes!
In celebration of her new release, Chrys will be attending Pump Up Your Book's 1st Annual Holiday Extravaganza Facebook Party on December 16. More than 50 books, gifts and cash awards will be given away including an e-copy of Revengeful Heart! Visit the official party page

here

!