IMM is a weekly meme hosted by
The Story Siren.
I didn't get much to post about last week, so they're all going into this week's instead.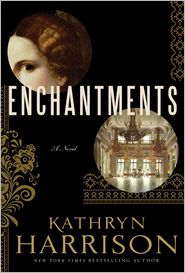 Enchantments: A Novel
by Kathryn Harrison - ARC from Librarything.com
St. Petersburg, 1917. After Rasputin's body is pulled from the icy waters of the Neva River, his eighteen-year-old daughter, Masha, is sent to live at the imperial palace with Tsar Nikolay and his family—including the headstrong Prince Alyosha. Desperately hoping that Masha has inherited Rasputin's miraculous healing powers, Tsarina Alexandra asks her to tend to Aloysha, who suffers from hemophilia, a blood disease that keeps the boy confined to his sickbed, lest a simple scrape or bump prove fatal.
Two months after Masha arrives at the palace, the tsar is forced to abdicate, and Bolsheviks place the royal family under house arrest. As Russia descends into civil war, Masha and Alyosha grieve the loss of their former lives, finding solace in each other's company. To escape the confinement of the palace, they tell stories—some embellished and some entirely imagined—about Nikolay and Alexandra's courtship, Rasputin's many exploits, and the wild and wonderful country on the brink of an irrevocable transformation. In the worlds of their imagination, the weak become strong, legend becomes fact, and a future that will never come to pass feels close at hand.
Mesmerizing, haunting, and told in Kathryn Harrison's signature crystalline prose,
Enchantments
is a love story about two people who come together as everything around them is falling apart.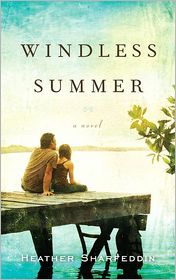 Windless Summer
by Heather Sharfeddin
A father's love. A shattering secret. A summer that will change lives forever.
In the town of Rocket, Washington—a summer playground for windsurfers and tourists—a windless summer ignites fear as businesses and residents move away. Rocket's motel, run by a lonely widower named Tom Jemmet, is hard hit. And Tom has demons of his own: memories of a beautiful wife that still haunt him, and a troubled young daughter whose retreat into a silent world confounds her father and sparks whispers in town.
Swirling around Tom are lives much like his own, townspeople yearning for wind but also for hope, even love. Charlene, a mail clerk, helps care for Tom's daughter while a secret gnaws at her heart…Lauren, the town vet, has fallen for Tom, who barely notices…and newspaper editor Hap is hatching a foolish plan to save his town.
That's when a miracle—or something like it—strikes Tom's run-down motel. Guests who stay in Room 6 begin experiencing sudden acts of fate, both terrible and great. But while tourists descend on Rocket and the the town shows new signs of life, the truth about Tom's motel and the death of his wife—as well as the secret hopes and fears of everyone around him—are exposed in ways that are both surprising and inevitable….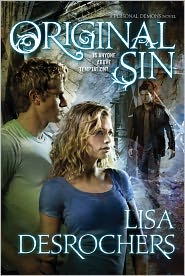 Original Sin
by Lisa Desrochers
Luc Cain was born and raised in Hell, but he isn't feeling as demonic as usual lately—thanks to Frannie Cavanaugh and the unique power she never realized she had. But you can't desert Hell without consequences, and suddenly Frannie and Luc find themselves targeted by the same demons who used to be Luc's allies.
Left with few options, Frannie and Luc accept the protection of Heaven and one of its most powerful angels, Gabe. Unfortunately, Luc isn't the only one affected by Frannie, and it isn't long before Gabe realizes that being around her is too…tempting. Rather than risk losing his wings, he leaves Frannie and Luc under the protection of her recently-acquired guardian angel.
Which would be fine, but Gabe is barely out the door before an assortment of demons appears—and they're not leaving without dragging Luc back to Hell with them. Hell won't give up and Heaven won't give in. Frannie's guardian exercises all the power he has to keep them away, but the demons are willing to hurt anyone close to Frannie in order to get what they want. It will take everything she has and then some to stay out of Hell's grasp.
And not everyone will get out of it alive.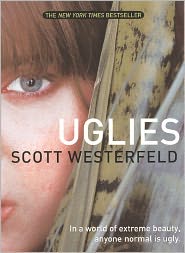 Uglies
by Scott Westerfeld
Tally is about to turn sixteen, and she can't wait. Not for her license -- for turning pretty. In Tally's world, your sixteenth birthday brings an operation that turns you from a repellent ugly into a stunningly attractive pretty and catapults you into a high-tech paradise where your only job is to have a really great time. In just a few weeks Tally will be there.
But Tally's new friend Shay isn't sure she wants to be pretty. She'd rather risk life on the outside. When Shay runs away, Tally learns about a whole new side of the pretty world -- and it isn't very pretty. The authorities offer Tally the worst choice she can imagine: find her friend and turn her in, or never turn pretty at all. The choice Tally makes changes her world forever.