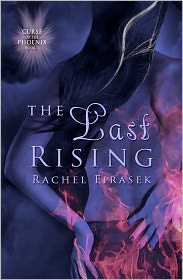 The Last Rising (Curse of the Phoenix, Book One)
by Rachel Firasek
About the book: After paying two millennia's penance to Osiris, world-weary Phoenix Ice has had enough. Saving souls without any hope for her own redemption isn't how she imagined spending eternity. Fed up, she decides her next death will be her last. But when she sacrifices her own life for a sexy Texan in a catastrophic plane crash, she has no idea the consequences will be so great…or that she'll end up back in his life for her next assignment.
Now that Turner Alcott has survived the worst, finding a wife and mother for his son matters more than ever before. When the mysterious Ice comes into his life, Turner knows she's the one—but love is the last thing Ice wants. If he wants to win her heart, Turner must teach Ice how to forgive herself, and prove that love is the ultimate sacrifice.
My Thoughts: This book was a great quick read. Ice has been doing penance for Osiris for two millennia for a crime that she doesn't understand, and she's getting really sick and tired of it. Her last trip ended in a fiery plane crash after saving a man named Turner, and to her amazement her next assignment puts her right back into Turner's life. Ice is determined not to let Turner into her heart, but finds it becomes harder and harder to deny their attraction is just physical. Turner is determined to prove to Ice that he is the right guy for her.
The characters had a surprising amount of growth and development for such a short book, and it was great to watch has Ice and Turner each taught the other important lessons on life and love. The book ends with quite a twist that I had no idea was coming and set me up to read the next book, The Last Awakening.
3/5