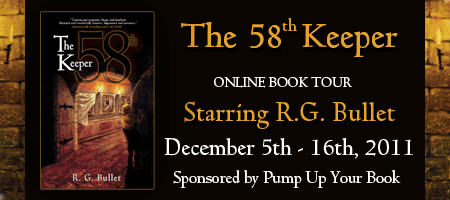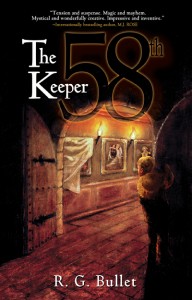 The 58th Keeper is the story of a boy called Archy Bass, who stumbles upon a mysterious and powerful relic. The moment he touches it, two warring forces race to find his whereabouts. One side thinks he's simply too young and too inexperienced to keep it, and the other just want him dead. The 58th Keeper is a roaring trip that takes the reader on the most wonderful and hair-raising scenes imaginable. R. G. Bullet pulls out all stops in hisdebut novel to deliver an incredible journey with unforgettable characters. This book will resonate with you for ages past the last line.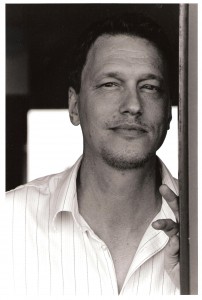 About R.G. Bullet
R. G. Bullet was born in Berkshire, UK. After living in nine different countries he has finally settled in Miami Beach, USA. He is addicted to tea, reading, writing, motorbikes and shamefully, Call of Duty. His middle grade debut novel:
The 58th Keeper
has just been released.
To learn more go to:
http://www.rgbullet.com/
Follow him on Twitter:
http://twitter.com/#!/RGBullet58
and join the fan page for the latest updates and fun competitions
https://www.facebook.com/rgbullet#!/profile.php?id=100002401835900
My Review:
Archy Bass has found himself in an unusual situation. On a trip with a friend from school, he thinks he's just buying a souvenir, but ends up becoming the 58th Keeper of the Shroud. Now the shroud has quite a few very special abilities, including making the user invisible and flying. At first Archy doesn't realize what he has, and when the Kurul, the bad guys, send their best after him he wonders if it's all worth it. He finds out that in order to keep the shroud and the title of Keeper, he must pass a series of tests, none of which will be very easy. But he just might be able to do it with the help of a couple friends.
Pros: The action in The 58th Keeper was fantastic. I had a very hard time putting it down without finishing it. There always seemed to be something just about to happen. Archy is a fantastic main character with just the right mix of good intentions with adolescent mischief. Throughout the story he grows and develops into a young man that is willing to take on a great responsibility. My favorite part of the story was the Time Quest. I don't want to say to much and give away too many details, but it was the meat and potatoes of Archy's development.
Cons: There wasn't much about this story that I didn't like. I wish I had seen a little more development in Archy's friends and learned more about the history and purpose of SOTS, the keeper's helpers. I would have liked to see a little more descriptive of the places Archy visited. Now, since this is young adult story, I don't exactly expect to see an abundance of scenery, but it still seemed a little light in that area.
Overall: A great story that I hope ends up being turned in to a series. I loved Archy and reading about his adventures with the shroud. The perfect story to get wrapped up in.
The 58th Keeper Virtual Book Publicity Tour Schedule

Monday, December 5th
Book spotlighted
Broowaha
Book reviewed at
D'Ambrosia Arts
Tuesday, December 6th
Book spotlighted at
Books, Products and More!
Wednesday, December 7th
Book spotlighted
American Chronicle
Thursday, December 8th
Book reviewed at
Joel Andre's Blog
Friday, December 9th
Interviewed at
Blogcritics
Tuesday, December 13th
Interviewed at
The Children's and Teens' Book Connection
Wednesday, December 14th
Book reviewed at
Jasmyn's Reviews
Thursday, December 15th
Book reviewed at
Mad Moose Mama
Book reviewed at
The Road to Here
Friday, December 16th
Book reviewed at
Community Bookstop
Guest blogging at
Lori's Reading Corner
Saturday, December 17th
Book reviewed at
Everyday is an Adventure