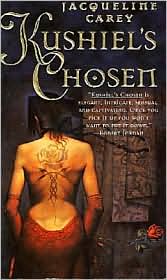 Genre: Fantasy
Pages: 704
Acquired: ???
Book of Your Shelf? Yes
Why I read it: Re-read to continue series
Series: Kushiel's Legacy (2)
In the second book of the Kushiel's Legacy series, Phedre and her Cassiline, Joscelin, journey to La Serenissima in search of Melisande. But, as always, there is more to the game than anyone suspects at first. Phedre must learn to navigate her way through a whole new politcal climate and use all her wits to try and decipher the clues she has which lead her on a not so merry journey across the seas, where she encounters pirates, gods, and ancient rituals. She is forced to look at herself in a new light time and time again, and make sacrifices she never thought she would have needed.
I was happy to see so many of my favorite characters back for a second book. The change of scenery and introduction of the La Serenissiman characters was the perfect addition to her already fantastic mix. The people and the setting meshed in a way that improved the flow of the story. Throwing in the action, which never seems to stop for Phedre, you have the perfect combination for an amazing book.
5/5