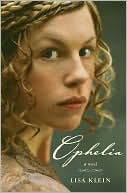 Ophelia by Lisa Klein
Genre: Historical Fiction, Young Adult
Pages: 336
Acquired: 6/8/2011
Book of Your Shelf? No
Why I have it: Book Battle 2011
Series: None
Most of us have read, if not at least heard of, the story of Hamlet. The danish prince's tale has captured the imagination of many, but what of the beautiful Ophelia? Where did she come from and why did she behave the way she did. Lisa Klein takes a look into the life of Ophelia before the start of Hamlet, and follows her through the tragic tale.
Ophelia's story is interesting, and Klein did a fantastic job of molding her story into the framework of Hamlet. But there was just something about her that I had a hard time connecting with for some reason. She seemed a bit one sided, always worrying, complaining, and enjoying the same things no matter what the circumstances were. I can see the places where the author tried to make her grow and develop into something more, but she always came up just a bit short....maybe that was the point?
The plot was were it really lost me. I know there is only so much freedom you have when you are working within another famous story, but there was much of Ophelia's life that was up to the imagination. Most of her story just seemed a bit cliche and overdone. I could almost swear I had read something almost exactly the same and that did turn me off quite a bit.
I don't want to turn anyone off from the book too much though. I don't think there was anything actually wrong with the story, writing style, or characters. And I have to admire the way the author was able to keep all the facts from Hamlet straight and fit it into Ophelia's story just right. It just wasn't a book for me.
3/5