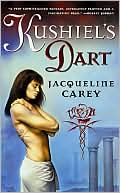 Kushiel's Dart by Jacqueline Carey
Genre: Fantasy
Pages: 928
Acquired: ???
Book of Your Shelf? Yes
Why I have it: Re-read of old bookd
Series: Kushiel's Legacy (1)
Phedre has been marked since birth by a scarlet spot in her eye. At first viewed as a terrible flaw, an more observant and educated man, Delauney, sees it for what it really is. Phedre has been struck by Kushiel's dart, and is bound to feel pleasure and pain as one. He takes her into his household to raise and train. But she is not trained in the typical way. She is taught to use her wits and her wiles to get others to reveal their deepest secrets. But Delauney's game is far more dangerous than any of them imagine. When everything backfired, Phedre finds herself left with no one but her bodyguard, Brother Joscelin, and fighting for not only their lives, but the freedom of the kingdom.
A very political book, full of court intrigue and plans. With an aging king and an unmarried female heir, no one is quite sure what will happen when the king dies. Several try to fight for the throne, but are defeated. But the biggest threat is one unseen to anyone. A threat that is revealed layer by layer as the Phedre's story unfolds.
I loved everything about this book. The characters, the places, the events all seem to come to life. The variety of scenery and people is just amazing. The story is full of so many people and places, but it moves at a pace that allows you to learn each one's part in the story before moving on, yet never seems to slow to a point that events become dull or repetitive. My only complaint, and its importance can be debated, is that the reader is not given a log of detail on their deities at first. The deities play a major part in how and why people act the way they do. A great read for those that enjoy epic series. I have book two up to read soon.
4.5/5