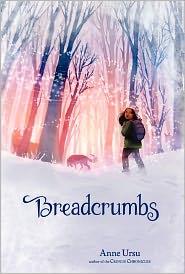 Breadcrumbs
by Anne Ursu
A stunning modern-day fairy tale from acclaimed author Anne Ursu
Once upon a time, Hazel and Jack were best friends. But that was before he stopped talking to her and disappeared into a forest with a mysterious woman made of ice. Now it's up to Hazel to go in after him. Inspired by Hans Christian Andersen's "The Snow Queen," Breadcrumbs is a story of the struggle to hold on, and the things we leave behind.
My Review:
"The Snow Queen" was always a favorite of mine growing up. I had several different versions that I just couldn't get enough of. Anne Ursu's version live up to all that I remember "The Snow Queen" ever being. Hazel is a fantastic character, and the world she trales while trying to rescue Jack is full of surprises and fantastic characters waiting to either help her or hinder her. Hazel needs to use her wits to try and bring Jack back from the clutches of the Snow Queen.
This is a must read for lovers of fairy tales everywhere.
Buy It Now:
Paper:
Breadcrumbs
Nook:
Breadcrumbs