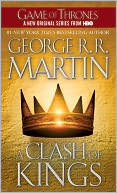 A Clash of Kings by George R.R. Martin
Genre: Fantasy
Pages: 969
Acquired: ???
Book of Your Shelf? Yes
Why I have it: Series
Series: A Song of Ice and Fire (2)
The battle for the Seven Kingdoms continues as up to five different people have declared themselves "king". The exiled Targaryan princess gathers her strength and a plan to return and reclaim her throne. Beyond the Wall in the north, strange things have are rising and the wildlings are on the march.
Once again the reader is drawn into a complex plot that it hard to walk away from. It continually amazes me how much detail Martin has put into the series and his skill at pulling all the different people and storylines together in a way that seems so effortless. The characters are constantly being forced to change and adapt as the war quickly covers the entire kingdom. The only ones that manage to stay out of it is the Night's Watch in the far north on the Wall. And they have their own problems to deal with as strange creatures have risen beyond the wall and it is rumored that the wildlings have gathered and are on the march.
A fantastic second book in the series that takes off running from the first pages. I can't wait until it's time to start the third.
5/5