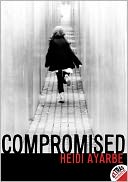 Compromised by Heidi Ayarbe
Genre: Young Adult
Pages: 464
Acquired: April 2011
Book of Your Shelf? No
Why I have it: Book Battle
Series: No
Maya's life has been far from typical, but it's about to get even more so when her con-man father gets arrested. Maya finds herself in a group home - miserable and alone. Then she gets word that there is a relative out there that may be able to take her in, but none of the adults believe her or are willing to help her track them down. So one night she sets off on her own, a runaway from the state with a highly unlikely companion.
Maya, who now goes by Jeopardy on the streets, doesn't realize just how much she doesn't know about life until she hits the roads to try and find her aunt. She learns about life and responsibility, while tackling moral dilemmas she never even imagined before. As she comes to understand the world better, with the help of her the companions she meets along the way, she begins to doubt the way she looks at life.
A fantastic story of a girl finding out that there is more to life than she could have possibly imagined. Not all things turn out OK, but that's what real life is all about sometimes.
5/5